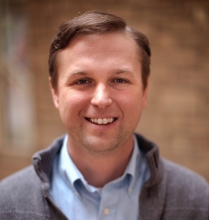 Coalfield Development (https://coalfield-development.org/about-us/), begun by SPC's "native son" and former Youth Director, Brandon Dennison, offers a truly astonishing testimony to the power of a seed (and one person) to change the world! In only 10 years, Brandon's Coalfield Development and the myriad social enterprises it has birthed has changed the face of southern WV/Central Appalachia and become a model for revitalizing former coal communities around the world.
A non-profit organization based in Wayne, WV, Coalfield Development has created over 250 new jobs, trained over 1200 people, leveraged over $20 million in new investment into the region, and revitalized over 1200 square feet of formerly dilapidated property. Its enterprises include construction job training (applicants also receive community college credit and personal development coaching), deconstruction of old properties and use of reclaimed materials for furniture making training and employment in solar installation (Rewire Appalachia), mountain top mining land reclamation (Reclaim Appalachia) and agricultural industries (Refresh Appalachia), and support for people in addictions recovery (Reintegrate Appalachia), among several other innovative industries . See https://coalfield-development.org/employment-based-social-enterprises/ for more information.  
10 Years Rebuilding Appalachia
An interactive timeline offers us a glimpse of Coalfield's accomplishments throughout their first 10 years. Check out the link below, hovering over each year to see the impressive listing of what has been accomplished!
https://coalfield-development.org/about-us/#Timeline
As you can see, Coalfield's innovative strategies have been featured by Bill Moyers, the Wall Street Journal, NY Times, PBS News Hour, Fox News, Forbes. Brandon as CEO has even testified before the U.S. Congress and met with the White House (Obama). Their partnerships now include the World Bank and the Nature Conservancy as well as regional and civic development organizations. All from the seed of a humble loving heart and hard-working man of faith!
____________________
10 Year Anniversary Virtual Celebration
Here is a link to Coalfield's 10 Year Anniversary Short Video:
https://coalfield-development.org/10years/#Video
To view the 10 Year Anniversary Celebration Event Video:
https://coalfield-development.org/media/#10YearAnniversaryCelebration
____________________
SPC Financial Support
SPC has supported the vital work of Coalfield Development since its inception 10 years ago, in recent years via our Christmas Eve offering. If you wish to offer your own Financial Support in these hard times, you can click here:
Here is a link to their Donate page:
https://coalfield-development.org/donate/

____________________
Coalfield Development's Vision:
Resilient Appalachian communities with socially, environmentally, and financially thriving economies which create the community conditions for all kinds of people to unlock their full potential, power, and purpose.
Values (from their website):
Gumption
No complaining or whining
Commit to excellent work
Fully participate; dive in
Believe in yourself, each other, and your community
Grit
Doggedly pursue solutions to problems
Follow through
Reflect; be fully present
Find the joy
Learn and grow
Grace
Stay humble; continually improve
Trust and relationships are top priority
Take time to listen, especially with whom you differ
Value each other's unique strengths
Be genuine and honest
 
For more on Coalfield Development Corporation's organizational theory and team principles, see: https://drive.google.com/drive/folders/1djIcS54G0n2j8Xs--V-Yx3b4zKUOohZl
____________________
Reclaim Appalachia
One of the industries birthed by Coalfield, is transforming the mining-impacted lands of Central Appalachia into vibrant sustainable development sites, including agriculture, forestry, agroforestry, renewable energy, value-added processing, and advanced manufacturing.
Follow this link for an inspiring short video of how such reclamation work is being done. [just skip the opening ad!] https://youtu.be/-M12NQbA23o
Excerpts from a good story on Refresh Appalachia: https://orionmagazine.org/article/restoring-appalachia/?fbclid=IwAR15qJE...
…"Through a variety of programs in Mingo County, workers are guaranteed thirty-three hours of paid manual labor, six credit hours in a local community college, and three hours of life-skills mentoring. Once finished with an associate's degree, crewmembers are equipped to grow food, erect solar panels, or build commercial beehives. Aspiring farmers can get permission to farm on former mining lands, which are typically owned not by the coal industry but by large landholding companies. Coalfield Development, Refresh Appalachia's parent nonprofit organization, projects hiring more than three hundred low-income "post-coal" workers over the next few years.
"As an experimental first step; a plateau has been leased to Refresh for free by the Mingo County Redevelopment Authority. On such inhospitable ground, the first step has been to haul up goats, chickens, pigs, and honeybees. The animals are already beginning to provide marketable meat, eggs, and honey, but, just as important, they are generating what this strange landscape most desperately needs: soil.
Workers select plants that can be grown in such difficult conditions (like Mediterranean lavender) and then supplement the soil with manure and compost for more successful growing. The Lavender can then be harvested and processed into a large variety of products, from essential oils and cosmetics to the fragrances used in soaps and cleaning products.
As shown in photos below, a Seppi M. USA stone crusher and ripper were rented from Linndale Equipment in July-August 2018 to pioneer a new approach to agricultural reuse of mined lands. By breaking up the rocky ground and grinding the top 10" of rocks into soil, it was demonstrated that reclaimed mountaintops can be made into tillable farm soil. The 15 acres prepped with the equipment will now be used for a variety of research and production plantings. Contact Nathan Hall at nathandavidhall@gmail.com for more information.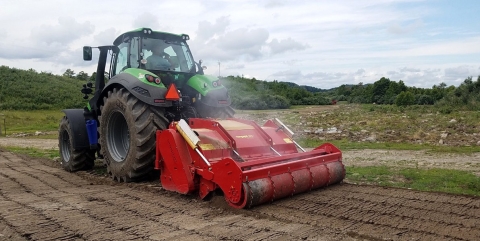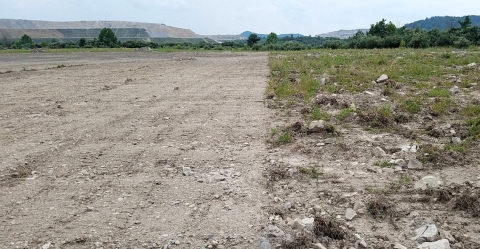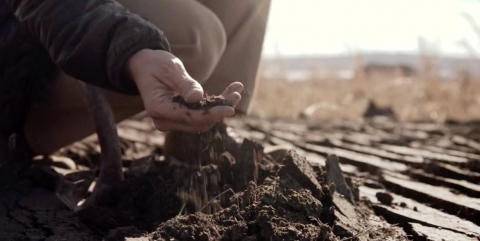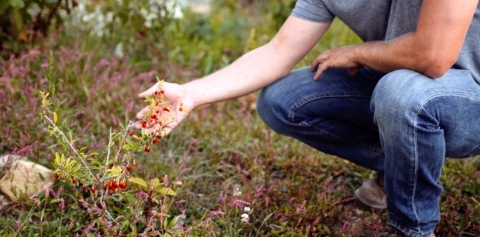 It takes enduring creative Envisioning and a lot of persistent Hard Work to do what Coalfield Development has done and continues to do. We're grateful to be a part of that seed and to offer our ongoing full support.