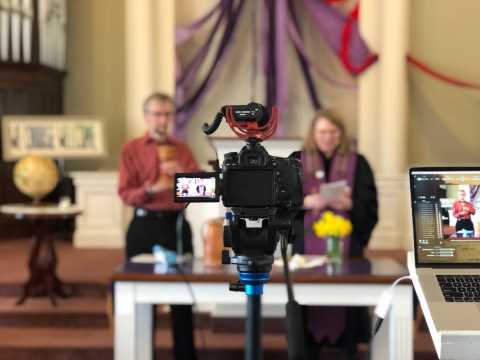 Our sanctuary has reopened, but we are continuing to broadcast our 11 a.m. worship service using Facebook Live! 
To view the live, 11:00 a.m. service: Go to the SPC Group Page (https://www.facebook.com/groups/spcworks) and wait for the "live stream" preview window to appear. NOTE: THE PREVIEW WINDOW WILL NOT APPEAR BEFORE 10:50am, please wait for it. Once it appears, it will contain the word "LIVE" in a red box in the upper lefthand corner, the current date, and an active countdown. You may also have to click on the speaker icon in the lower righthand corner of the preview window in order to unmute the audio. Please note that a Facebook account is not required to access the live stream.
For those using an iPhone or iPad, it is suggested that you download the Facebook App for the best viewing experience.
Worship materials for our upcoming service may be found in our "News" section.
Past services and highlights may be viewed at https://vimeopro.com/spcworks/live
Permission to podcast/stream the music in this service obtained from One License with license #A-710209.