Want to learn more about how YOUR money donated through SPC for mission activities is being used? Click on the image below for an overview and to drill down for more details. Works great on a smart phone. On a computer or laptop, you have one extra step – to click on the box in the upper part of the next screen that is labeled "Slideshow". Please enjoy and learn!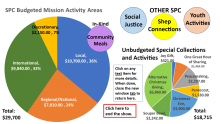 WE INVITE YOUR FEEDBACK after you have browsed the pie charts above (or even without browsing them first)!
To do so, please click on the image below, then scroll down and follow the instructions on the spreadsheet. We would love to hear from you!
Please note: we cannot make changes to 2022 at this point since some of the funds have already been spent. Nor can we guarantee that all feedback will be reflected in the 2023 budget. We are only using the 2022 numbers as a starting point for a discussion about 2023. Also be aware that this spreadsheet will only work on a cell phone if you have Google Sheets installed, and even then only somewhat awkwardly, at best, because of the small screen. It works best on a computer or laptop.
Detailed instructions for inserting your own suggested additions and subtractions are on the spreadsheet itself. Those instructions assume that you will put in significant numbers (eg: $100 or more) and see the changes these make to the allocations in the pie charts. HOWEVER, if you feel uncomfortable with suggesting actual dollar figures, you may put small numbers – 1, 2, 3, etc. – in the add column to simply rank the three or four (or more) projects that you most strongly favor (with 1 as the top choice). Similarly, if there are projects that you believe are less needy or inappropriate for SPC that should be dropped, a 1 in the minus columns would indicate your least favorite project, a 2 your second least, etc. The committee will understand that such small numbers are intended as rankings, rather than actual tiny additions to or subtractions from the projects.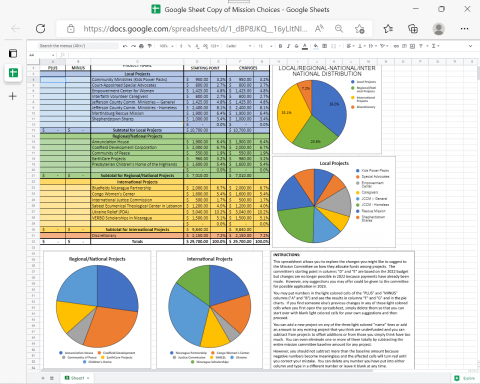 AND WE'D LOVE TO HAVE YOU DIP YOUR HANDS INTO THE WATER ON ONE OF OUR PROJECTS!
The SPC Mission Committee encourages all SPC congregation members who are willing and able, not only to donate funds through your church and other giving, but also to join in hands-on participation in the SPC-sponsored mission activities listed below. For more information on any of these, including further details on how to participate, or to volunteer, the SPC contact persons shown for each project can be reached through the church office at lynn@shepherdstownpresbyterian.org or (304) 876-6466. No obligations to just inquire so please feel free to respond.

International and Somewhat Distant Regional & National Missions
Coalfield Development – Wayne, WV:
You may find ways to sell the products of those in the program or to hire their trained workers.
SPC Contact: Charlotte Baker-Shenk.
Congo – Kasai Christian Medical Institute (IMCK) and Women's Center:
You can be a pen pal or friend on Facebook with one of the nursing students. Language barriers can be overcome with use of the machine translation program DeepL Translator.
SPC Contact: Bill Rule.
Nicaragua – Verbo/Bluefields:
You can be a pen pal or friend on Facebook with students or teachers in the school. Language barriers can be overcome with use of the machine translation program DeepL Translator.
SPC Contact: Kay Schultz.
Presbyterian Children's Home of the Highlands (PCHH) – Wytheville, VA:

Local and Nearby Service Opportunities
Court Appointed Special Advocates (CASA) – Martinsburg:
If you are able to make a serious time commitment, check out what is involved with being a volunteer advocate here (https://mycasaep.org/volunteer/) and fill out the application form on line.
SPC Contact: Chris Cubby.
EarthCare
When announced, you can help plant trees in Shepherdstown and elsewhere
SPC Contact: Paul Hodder.
Eastern Panhandle Empowerment Center (EPEC) (formerly Shenandoah Women's Center):
You can help people with grocery shopping, caregiving for children, and more. See the descriptions of all these options here: https://epecwv.org/volunteer/.
SPC Contact: Mary Ellen Lloyd.
Good Shepherd Interfaith Volunteer Caregivers (GSIVC)
You can do a variety of tasks for people who are homebound or otherwise unable to do these tasks for themselves, including food shopping and driving people to local medical and dialysis appointments. For more information, go to https://gsivc.org.
SPC Contact: Vicki Smith.
Jefferson County Community Ministries (JCCM) -- Community Meals:
You can prepare a dish or donate food, utensils, napkins, paper plates, bowls, cups, ziplock bags, plastic/paper bags and carry-out containers on the 1st Sunday of each month. Further, you may help assemble, organize and transport meals and serve/clean-up at Zion Episcopal Church in Charles Town on the 1st Sunday of each month.
SPC Contact: Bert Wright.
Jefferson County Community Ministries (JCCM) -- Homeless Commission:
You can provide food or spend a night helping to host the homeless during SPC-assigned weeks, no longer at SPC proper, but at the old Presbyterian Church in Halltown, which will now used as the cold weather homeless shelter. Further, you can volunteer at JCCM in Charles Town for a variety of tasks, including the clothing closet, the food pantry and the Intake Office. Learn more here: https://jccm.us/volunteer/.
SPC Contact: Bill Rule.
Kidz Power Pacs (in lieu of Caring Cupboard):
You can help pack supplemental weekend food kits for approximately 1000+ children in Berkeley and Jefferson counties. You can volunteer at https://communitycombined.org/.
SPC Contact: Mary Ellen Lloyd..
Martinsburg Union Rescue Mission (MURM):
Fill out this form (https://martinsburgunionrescuemission.com/volunteering/) to volunteer directly at the mission in Martinsburg in a variety of ways, including food service, or call 304 263-6901 for more information. You can collect clothing and other supplies for distribution at MURM.
SPC Contact: Terry Lindsay.
Shepherdstown Shares:
Shepherdstown Shares can use your skills at grant writing, accounting/bookkeeping, planning and fundraising. You can also donate special holiday food items and Christmas gifts.
SPC Contact: Cari Simon.
Welcoming Migrants:
You can participate in and help organize the annual SPC picnic for migrant orchard workers here in Jefferson County, and donate and help collect and deliver clothing and other items for the migrants.
SPC Contact: John Gonano.