WHO, WHAT WHERE AND WHAT IT DOES
Bluefields, Nicaragua and outlying villages including Rama Cay and Tasbapouni
The church and its related school, founded by the Pastor's wife, Ligia, serve the families and children of Bluefields and environs, a frontier town with 80% unemployment, significant drug problems, and political repression.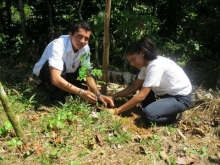 The area is ethnically diversity with local Mosquito, Rama and Garifuno Indians, mixed race Creole people with ancestors from Haiti's sugar cane fields, pirates hiding in local lagoons, and Moravian missionaries. The Atlantic coast was a British protectorate until 1895 and largely English speaking when Kay Schultz traveled there as a college student in 1966. Since then many people from the "other" Spanish speaking side of the country have immigrated, clearing forests and grazing cattle in the bush and significantly changing the demographics of the area.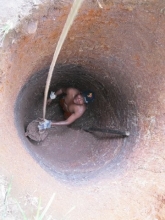 The church administers a children's feeding program, a feeding program for homeless adults, a farming outreach on some forested land it owns, an orphanage, and numerous other activities, often with mission partners from the US, Canada, and UK. During COVID, the feeding programs have changed with poor families getting provisions to cook themselves and homeless folks getting meals "to go." The school that it founded is the most highly rated school in the area, often with very poor children whose parents are dump pickers, earning high marks. The school recently got an award for its "green" environmental education.
Among other activities, school children learn about planting and nurturing seeds and are growing our fruit bearing shrubs for their neighbors use.
VIDEO MESSAGE FROM PASTOR ED
NEWS AND UPDATES
WHAT SPC HAS DONE AND THE RESULTS/IMPACTS
SPC has partnered with VERBO church and its ministries for more than 10 years.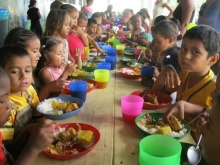 An SPC mission team traveled to Bluefields on the Atlantic coast in 2011. Alex Navarro, one of the youth involved in the mission trip said, "I can honestly say that Nicaragua helped open my eyes to the real world. . . . During this trip I was able to help, and connect with some of the kids that lived there. The experience was great and I'm looking forward to going back in the future. This trip has made me more grateful for everything." Wendy Ransom said, "Prior to leaving someone had said to me, with all the problems that we would see, wouldn't it be a very sad trip. Yes, the needs and problems are great. But the smiles run rampant there as well. For all that they face on a daily basis, they seem to have a profound faith that God will look after them."
SPC in the past has funded wells, computers and a computer lab for the school, better lighting for classrooms, a water filtration system and outhouses for the school, supplies for poor pregnant women at a local maternity home, and medical needs for injured folks.
WHAT YOU CAN DO AND WHY IT IS IMPORTANT
Donate via check to SPC or online using the "GIVE" button in the upper righthand corner of the SPC website. Please indicate VERBO in the memo field of your check or in the comments/message section of your online donation.
CONTACTS AND LINKS FOR MORE INFORMATION
VERBO Church Partnership Slideshow
Contact Kay Schultz via office@shepherdstownpresbyterian.org